Governors
Our governors play a key role in our continued improvements, and bring a range of skills and expertise to our academy.
Kathryn Walker
I am incredibly passionate about education and supporting young people to fulfil their full potential.
Read more
I have worked within the science education secondary sector for many years. I am also an active mum of two boys. My family have lived in the local Calderdale area for the last 20 years.
By working as a part of the governance team, I hope to not only aid the students at St Chads to progress academically, but also to offer my knowledge and expertise in education to support the work of the governing body to ensure that both St Chads and students flourish in their education journey.
Suzanne Longley
I have skills in planning and delivering services with responsibility for monitoring and quality assurance.
Read more
I have been a school Foundation Governor at St. Chad's for the past two years. I am also a Sunday School Leader at St. Chad's Church. I manage a voluntary sector social enterprise in Bradford supporting adults with learning disabilities through day time opportunities in horticulture and related activities. I have skills in planning and delivering services with responsibility for monitoring and quality assurance. I have a daughter in school, love spending time outdoors and enjoy singing in a choir.
Gavin Reid
I became a Governor to bring a diversity of skills and knowledge to help support Trinity Academy St Chads as it continues to grow and succeed.
Read more
I am an Architect with many years experience of working in construction and project management within Calderdale.
Coming from a non-educationalist background, my focus will be directed towards ensuring a safe, healthy and inspiring environment for our community to learn, teach and be proud together.
Josephine Benn
I grew up in the local area and having spent most of my adult life living elsewhere in Yorkshire, I recently moved back to Calderdale and was keen to get involved (somehow) in my local community.
Read more
I am really passionate about education and work in a University where we offer courses focussed on education including initial teacher training. Hearing all the positive feedback from trainee teachers on placement in schools inspired me to look into the role of school governor.
Children learn and develop better when they are supported emotionally and socially and I am so impressed by all the hard work which goes into providing the supportive, nurturing environment that Trinity Academy St Chad's offers.
Gavin Logan
I am very pleased to be a Governor at Trintiy Academy St Chad's. Brought up in the local area; both my boys attend the Academy.
Read more
I am a passionate individual who is committed to ensuring high-quality education and safeguarding measures for all students at Trinity Academy St Chad's. As a governor and in my own working role I take safeguarding very seriously and understands the importance of creating a safe and secure environment for all children. With a keen eye for detail and a deep understanding of the safeguarding requirements.
In addition to safeguarding, I am a firm believer in the power of education and recognises its importance in shaping the future of children. With a strong background in education and a wealth of knowledge and experience, I am committed to supporting the school in offering high-quality education and ensuring that students achieve their full potential.
With a dedication to the school's mission and values, I understand the importance of working collaboratively with the school's stakeholders and upholding the highest standards of governance. The expertise I hold in legislation, safeguarding, and education are critical to my role as a governor and to help ensure children achieve the best standard of education.
Matthew King
Sally Lloyd
I have a wide spectrum of skills in the field of education, to offer the children and families of Trinity Academy St Chad's.
Read more
I am lucky enough to have become a governor of Trinity Academy St Chad's. Born and brought up in the local area, I have sought to support my local community over several decades, as a secondary school teacher. I have one daughter, who has grown-up to become a teacher too. I am able to offer my skills-base and experience by diversifying into the support of primary-aged children. By working as a part of the governance team, I hope to not only aid our students' academic progress over time, but also to offer an holistic, supportive perspective, which can take into account the challenges our young people can face, as they engage with school life and prepare for the different stages of growing-up. It is an honour to support them in their journey to fulfil their potential.
Jagbir Oates
I want to use the varied knowledge and expertise from my career in financial services
Read more
"I became a governor so I could use my skills and knowledge to give something back to the community. Becoming a parent also made me reflect on how education shaped me.
I joined as a Local Authority Governor in 2015, moving to the role of Vice Chair, then subsequently Chair.
It's been quite a journey (and it's been tough at times) but I believe Trinity Academy St Chad's has a really bright future - I want to play a part in creating that, by working collaboratively to ensure the school and its pupils thrive."
Scheme of Delegated Authority (SoDA)
Trust Governance Structure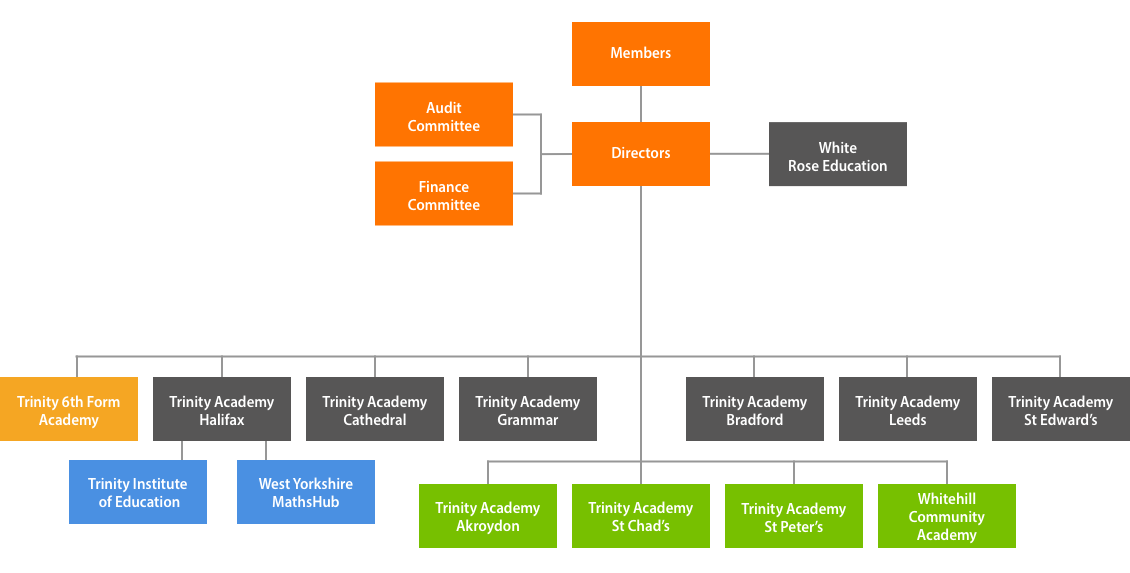 | | |
| --- | --- |
| Body | Chair |
| Board of Directors | Mr Tom Miskell |
| Chair of Members | Mr Tom Miskell |
| Finance Committee | Mr Andrew Heley |
| Audit Committee | Ms Elaine Beaumont |
| White Rose Education | Mr Mike Kneafsey |
| Trinity Academy Halifax LGB | Mr David Baker |
| Trinity Academy Akroydon LGB | Mrs Jackie Tagg |
| Trinity Academy Cathedral LGB | Mr John Hanson |
| Trinity Academy Grammar LGB | Ms Georgie Scully |
| Trinity Academy St Chad's LGB | Ms Jag Oates |
| Trinity Sixth Form Academy LGB | Mr Andrew Tagg |
| Trinity Academy St Peter's LGB | Ms Sue Sutton |
| Trinity Academy Bradford IEB | Mr David Baker |
| Trinity Academy Leeds LGB | Mr Tim White |
| Trinity Academy St Edward's LGB | Mr Nigel Leeder |
Chair of Governors
Ms. Jagbir Oates C/O Trinity Academy St Chad's Upper Green Lane Hove Edge Brighouse HD6 2PA
Interested in Becoming a Governor?
We are looking to recruit a number of governors to support our school.
The governors for the academy local governing body are appointed by the trust chief executive officer under delegated authority of the board of directors, as set out in the trust's scheme of delegated authority.
The role of a governor can be very rewarding, and volunteering within our schools will provide you with the opportunity to make a valuable contribution to your local community and the future of our young people.
Governors will sit on our Local Governing Body and work with the senior leadership team to ensure students are receiving the best education possible and that all resources are being used effectively to support this ambition. A strong governing body is made up of a group of people who will contribute various skills and experience, and who will commit to working together for the benefit of the trust and the local communities in which we work.
Being a governor requires individuals to learn about schools and ways of working, and it is also about individuals bringing their skills and experience to contribute to an existing skillset. It is important that every governing body is made up of a group of people who have an understanding of their role and responsibilities, who are committed to gaining knowledge about the school and who will ask challenging questions to scrutinise leadership and decisions made within school. Governing bodies have key strategic responsibilities and these need to be explored within every meeting, without getting involved in the day to day operational activity within the school.
Governors play an important part in every school and we invite you to learn more about Trinity Multi-Academy Trust, our schools and the opportunity to really make a difference to the lives of our young people.
If you are interested in discussing our governor vacancies further, please complete the Expression of Interest form below and return to the email address given on the form. We will then get in touch to arrange a further conversation.